Our In addition to our permanent Smooth Weft Hair Extensions we also offer a fantastic range of clip in hair extensions which are made from slightly different hair than our permanent range.  We can colour match your hair in a simple 15 minute consultation.  There are 12 beautiful colours to choose from and the total weight is 150g spread over three rows which for most people, is a full head. 
Clips ins are a perfect option if you are not ready to commit to having extensions permanently, or if you like the look of long and or thicker hair just on special occasions.
Because the hair we use is of the finest quality, there is very little shedding with these extensions and the great thing is, they come in 20″ in length, they can be applied instantly and are both affordable and extremely low maintenance. Our clip in extensions will see you through 6 – 12 months of wear with correct home hair care and maintenance, and a full set is only $380. 
Have a read of the nitty gritty below and get all the details on our clip in extensions and how to look after them to make the most of your investment.
What are your extensions made out of? Our extensions are made out of 100% ethically sourced human hair with the cuticles in tact and facing correctly in the same direction — no dreadful synthetic material to worry about melting with your blow dryer! A lot of hair on the market is falsely advertised as 'AAA+ grade and so on, but in fact there is no grading system for hair extensions or quality control, it is something that sellers have made up to coax people into purchasing off them. We have done extensive research and traveled NZ wide as well as overseas testing hair and different methods, and In our opinion we have the absolute best quality and most authentic real human hair money can buy lasting 6 – 12 months.
Are extensions just for length?  Is it really just a "young person" thing? No way! Extensions often come with the stigma of being just for Young people who want super long hair. While we do get a lot of this clientele, we have just as many people use our extensions for body and just a few of inches added to the length. We have many clients with ages ranging from 20 – 80 enjoying clip-in extensions, this option is for anyone and everyone!
Can i style them as normal? You sure can! as long as you use a heat protectant, and keep your styling device under 180 degrees, you can go ahead an style as you normally would, just be a little more gentle with your extensions that you would with natural hair.
Do they feel heavy and noticeable? The weight is evenly distributed throughout the weft, so if they are applied correctly (ask one of our stylists when you come in to show you how its done), they are inconspicuous and comfortable. They are of course a little more bulky that our permanent extensions because of the clips, but they are made on a thin skin weft and can still be hidden very well and feel secure.
I have got super fine hair, are clip ins suitable for me?  Are you sure people will not be able to see them? Yes, unless your hair is literally see through. The reason extremely see through fine hair is an issue, is because the lack of natural hair to cover the clips and also, they don't often blend well if there is not enough natural hair. the best thing to do is to come in for a complimentary consultation with one of our stylists so we can determine if your hair is thick enough to make this option work for you if you are concerned about it.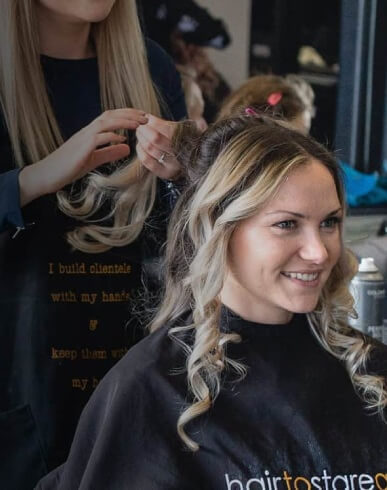 Hair Extensions Maintenance and Care
Do not use low quality shampoo and conditioner that contains any protein or sulphate, or has high alcohol content
Concentrate shampoo on own scalp rather than on extensions
Concentrate conditioner on extensions – midlengths to ends
Using an intense moisture hydrating mask regularly is a necessary part of maintaining extensions
Apply oil to midlengths and ends daily
Brush hair daily with a boar bristle or no tangle extension brush
Apply heat protectant spray (containing no protein and low alcohol content) prior to using heat styling tools
Extensions require maintenance every 6-12 weeks depending on which type to keep the natural hair safe, damage free and manageable
It is normal to lose extensions in between maintenance, these can be re-applied at an extra cost depending on which extensions you have
Dry hair gently with a hairdryer on low-medium heat
Always tie hair up when sleeping, a loose plait is best
Do not bleach hair extensions, use only a semi-permanent colour to go darker or tone to a similar shade
Do not sleep with wet hair
When swimming, wear hair in loose plait, never a bun or top knot
Rinse hair straight after swimming in chlorine or salt water
Avoid washing hair for 48-72 hours following hair extension application
After extension application wear the extensions in a low pony tail and low hairstyles only for the following week