Micro/Nano Bead Extensions
Our Micro Bead and Nano Bead extensions are top quality Remy hair and are attached to small sections of your own hair with a small silicone-lined bead. The bead is then tightened to hold it in place.
Micro Bead and Nano Bead extensions don't require heat, glue or adhesive and can last for up to three months in the hair.  Hair is reusable, and any extensions that may have slid down or off can be re-fixed again by one of our experienced stylists. 
What the difference between Micro and Nano Bead Extensions? Nano Beads are 90% smaller than the traditional Microbead I Tip.  They suit fine hair where a traditional Microbead cant be used
How long does it take to apply?  Depending on hair thickness it will take from 4 – 5 hours
Does this price include a colour? No, we will try to match your colour or the extensions as close as possible but in some cases we will have to colour the extensions or your hair.
Does this price include a cut? Yes
Can they damage my hair? No, there is no to very little damage.
What is Remy hair?  Remy hair is collected in such a way to ensure all strands remain aligned in the same direction to which it has grown. This eliminates tangling problems more commonly found in non-Remy hair.  Because of this method of collection, this type of hair is in short supply and is priced accordingly.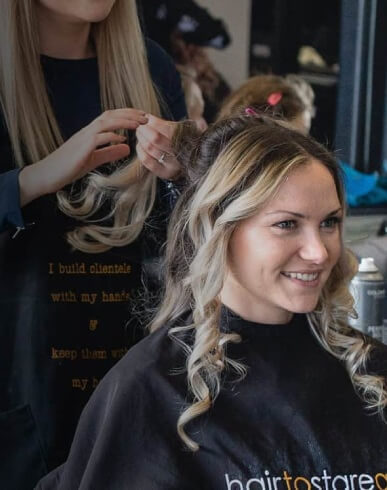 Hair Extensions Maintenance and Care
Do not use low quality shampoo and conditioner that contains any protein or sulphate, or has high alcohol content
Concentrate shampoo on own scalp rather than on extensions
Concentrate conditioner on extensions – midlengths to ends
Using an intense moisture hydrating mask regularly is a necessary part of maintaining extensions
Apply oil to midlengths and ends daily
Brush hair daily with a boar bristle or no tangle extension brush
Apply heat protectant spray (containing no protein and low alcohol content) prior to using heat styling tools
Extensions require maintenance every 6-12 weeks depending on which type to keep the natural hair safe, damage free and manageable
It is normal to lose extensions in between maintenance, these can be re-applied at an extra cost depending on which extensions you have
Dry hair gently with a hairdryer on low-medium heat
Always tie hair up when sleeping, a loose plait is best
Do not bleach hair extensions, use only a semi-permanent colour to go darker or tone to a similar shade
Do not sleep with wet hair
When swimming, wear hair in loose plait, never a bun or top knot
Rinse hair straight after swimming in chlorine or salt water
Avoid washing hair for 48-72 hours following hair extension application
After extension application wear the extensions in a low pony tail and low hairstyles only for the following week