Vixen and Luxe Smooth Weft Hair Extensions
Our Vixen and Luxe smooth weft hair extensions technique is an updated and technically advanced version of Micro-weaving. The Smooth Weft has a much flatter finish to the scalp than Micro-weaving due to the flat construction. This makes it undetectable and exceptionally comfortable as well as suitable for all types of hair. 
Our Smooth Weft technique is made with a strong resin which is certainly substantially stronger than traditional sewn wefts on the market. The smooth weft hair extension we use is proven to be stronger, has a lot less shedding and there is no 'beard', which is the line of shorter hair at the top of a sewn weft which often causes itchiness. Vixen and Luxe smooth weft hair extensions can be applied in 45 minutes without the use of tape, glue, braiding or heat and we are proud to say they are 100% damage free.
All extension packages include specific shampoo, conditioner, heat protector spray, treatment milk and a free follow up appointment after two weeks.
*Must come in with clean dry hair, wash and blow wave is an extra service.
*If maintenance is left over 10 weeks the cost to maintain is $200
What is the advantage of this method? Our Vixen and Luxe smooth weft hair extensions fall clean which means there is no 'beard' (this is the shorter row at the top of traditional sewn wefts) which allows the wefts to sit so flat to the head that they are undetectable to the touch and do not itch or matt up which can often happen with sewn wefts that have a 'beard'.
How long does it take to apply?
30-45 minute application time for 4 rows (15 minutes for a 2 rows)
How long does the hair last?
Our hair lasts 7 – 12 months, often longer (12 months +) with the right care at home and using the Vixen and Luxe specific haircare range
How long do they take to remove? 2-3 minutes to remove so are flexible if you feel like a break from them or you are going away on holiday
Does this price include a colour? No, we will try to match your colour or the extensions as close as possible but in some cases we will have to colour the extensions or your hair. They work in well with 6 weekly colour services; remove them, colour & cut the natural hair, then reapply (30 – 45 minutes)
Does this price include a cut? Yes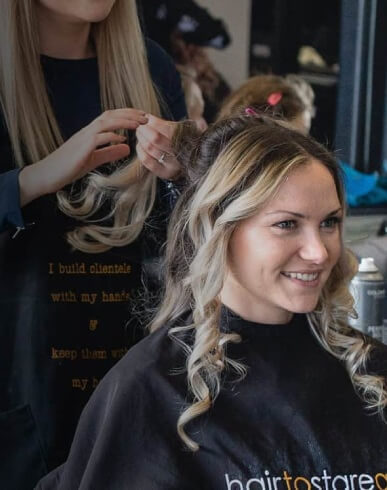 Hair Extensions Maintenance and Care
Do not use low quality shampoo and conditioner that contains any protein or sulphate, or has high alcohol content
Concentrate shampoo on own scalp rather than on extensions
Concentrate conditioner on extensions – midlengths to ends
Using an intense moisture hydrating mask regularly is a necessary part of maintaining extensions
Apply oil to midlengths and ends daily
Brush hair daily with a boar bristle or no tangle extension brush
Apply heat protectant spray (containing no protein and low alcohol content) prior to using heat styling tools
Extensions require maintenance every 6-12 weeks depending on which type to keep the natural hair safe, damage free and manageable
It is normal to lose extensions in between maintenance, these can be re-applied at an extra cost depending on which extensions you have
Dry hair gently with a hairdryer on low-medium heat
Always tie hair up when sleeping, a loose plait is best
Do not bleach hair extensions, use only a semi-permanent colour to go darker or tone to a similar shade
Do not sleep with wet hair
When swimming, wear hair in loose plait, never a bun or top knot
Rinse hair straight after swimming in chlorine or salt water
Avoid washing hair for 48-72 hours following hair extension application
After extension application wear the extensions in a low pony tail and low hairstyles only for the following week